Before we get to the actual post…it is that time again! Link up and share just about any post… maybe it is one you wrote yesterday or a year ago… this is a great place to share. Make sure to grab this button and put it in your post or on your blog!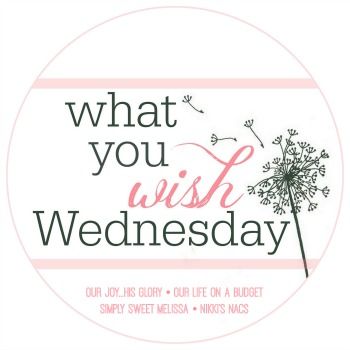 So back to the subject of this post… Planning a Wedding on a Budget. I have to say, I am not a wedding planner, but I am pretty frugal and good at doing things on a budget (thus the name of the blog). Our wedding was not a shoestring budget, but a reasonable budget, especially for the Atlanta area. I struggle, even thinking back to 5 years ago, that we/people spent that much on one day. But it is a celebration, and I loved our wedding day. All in all I feel like it is a balance of celebration without going overboard. So with out further ado… here are my first set of pointers:
ONE
Set Priorities
Look at all the parts of a wedding (pictures, videography, food, flowers, dress etc) and decide what 2-3 parts are the most important to you and your fiance'. Put more money in the budget in those areas and be willing to sacrifice in others. For example, pictures and not having to cut our guest list (meaning we could not have an expensive dinner) were our priorities and flowers, favors and even dress were not. We set our budget accordingly.
TWO
Set a budget and stick to it
I can't tell you how many friends told me at the end of their wedding planning they were dropping a thousand extra dollars here and there… and I was like "What? $1,000 is a lot of money!" We personally ran into things that were more expensive than we expected, but we waited it out and always found a cheaper way. We had budgeted a certain amount for a cake, and as we got into the planning process, I realized that cakes were a lot more expensive than I expected. To add insult to injury, our reception hall had a cake cutting fee (what????). I started to ask around and was eating a cake at a friends reception and they said the cake was made by a friend just starting her business. I never would have guessed- the cake was great! She need up doing our cake and cookies for our favor and it was in our budget.
THREE
Plan you wedding in off season/day
We were only able to afford what we could because we got married in January. Every single vender we used was cheaper then. Because it was off-season, our reception site let us use the whole building at no extra cost.
FOUR
Release some control
As I said before, flowers just were not that important to us. So when I met with the florist I had a set budget, the details of our wedding, things I liked and things I did not like. Then I let her go with it. We loved our flowers. It was in budget exactly. Also, with the flowers, if you have a particular favorite be carful if it is out of season, it will be expensive. I came with color and some flower preferences, but mainly let her choose based on what flowers were in season.
And just some general advise for the road...
put you and your fiancé first (but do take into consideration if someone else is paying or the wedding) people are going to say you need this or that, but it is ultimately the celebration of y'all's covenant. If you start trying to please everyone you will go crazy! And prepare for the marriage… the wedding is wonderful and it is one day. Get ready for the rest of your lives too :)
And take a look at part two! :)
An InLinkz Link-up