What another sweet summer week! Hope everyone is having a great summer. God is really using this summer to rock my world… I am not ready to share all about it right now… just though I would let you know :)
____________
At the bottom you will find the link up with Leslie, Nikki, Melissa and I for What You Wish Wednesday!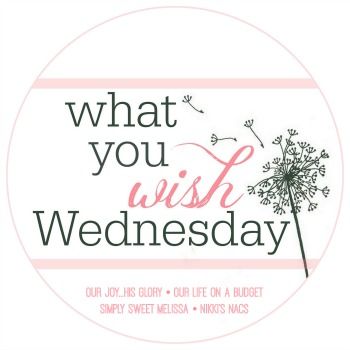 __________
With so many good posts this week, picking my features has been seriously hard! But I guess it had to be done;)!
*Loving these simple 4th of July decorations…. you could either pin this and save it for next year or adapt the ideas to other holidays!
*
When is picky too picky?
Have you ever had the doctor or NP tell you something you were not too sure about? I know I have! Sometimes it is hard to sort through all of this! It also reminded me of our journey with Baby Led Weaning… which we love FYI :)
______________
Now it is time for you to link up and share! As usual you can linkup just about whatever you wish!
Link-up details. It's too easy no to join in:
*share a recent post of your choosing (link-up at very bottom of this post)
*include the WYWW button and/or a visible link-back to this post

 










Look forward to reading your posts :)
Also you can follow me at…
Blogger
Instagram
Pinterest
Facebook
Twitter
An InLinkz Link-up