thoughts for...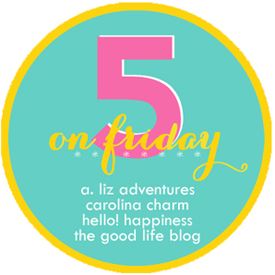 1.
Being desperate for God
2. There are so many hilarious moments in my prek class... this week I was trying to help them remember their last names. At snack I was asking them what each of their last names... most of them said their middle or last name. Then I get to one little boy... "What's your last name?"... response- "Boo Boo." My response- "No, I think that is your nickname."
Needless to say to anyone who has ever taught preschool before, what were the mot popular words in my room that day? Boo Boo of course :)
3. Our 5 year anniversary is coming up in January (read, what it has been 5 years :)???) and we have been pondering how to celebrate. We'd love to go somewhere... without breaking the bank. And there is one other problem... we still have yet to leave BD with a sitter to go out (she is almost 6 months old)... We probably should probably work on leaving her with a sitter one of these days.
4. Pink yogurt lid time! A really great percentage goes to the Susan G. Komen Foundation. So eat yoplait yogurt between now and the end if November and give me your lids.
5. And... BD in a shopping buggy ... I can't handle the cuteness. I am glad I managed to get this pic, because I have gotten in a really bad habit of putting things on top if the car while I put BD in her car seat. I put my phone on top if the car and drove half way to the grocery store. Thankfully when I checked for it at a red light it was in one piece and not a million in the side of the road.:)