one
Last Friday was my last day of school… and summer has officially begun! We have been traveling seeing family, and I keep thinking it is Friday… but now it is actually Friday. I think I am craving to get back to a

*little*

more routine:)
two
Did you stop by our new link up *What You Wish Wednesday* this week? I am so excited that so many new friends have already linked up! If you have not this week there is still time or you could alway link up next week. Either way you should at least go check it out!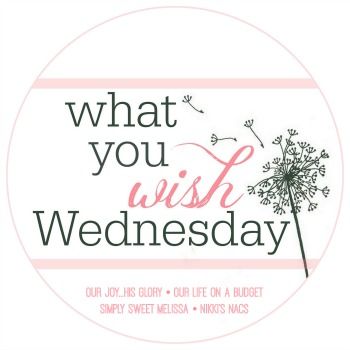 three
Speaking of the link up, one of the co-hosts is Melissa, from Simply Sweet Melissa. She did a quick guest post for me on summer fashion. I think she had some great ideas for versatile pieces you could use over many summers!
four
God has been teaching me so much about what it means to embrace being a #girlmom. :)
five
I am learning SOOOO much about html and other techie blog things right now. I wish I could just write on this blog, but I have to keep up with all the tech stuff. At least I am learning new things! I made my second grabable button this week for living 1:27 foster care ministry. They are an awesome ministry… so if you want to grab and share the button, that would be awesome (or at least go check them out).